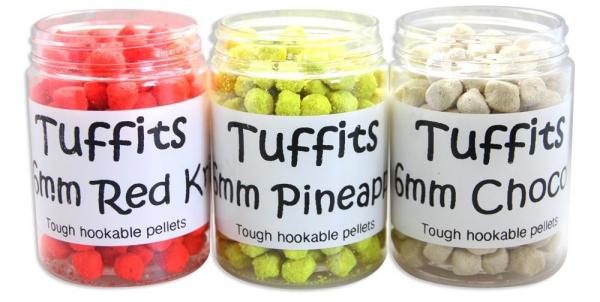 Hookbait that needs no preparation, Tuffits are a tough, preprepared expander pellet available in 6mm and 10mm. Perfect for waggler, feeder or shallow fishing.
Product Description
On those days when you quickly want a hookbait that needs no preparation Bag `em Tuffits are ready to use straight from the tub. Tuffits are a tough pre-prepared expander pellet available in 6mm &10mm size. They are perfect for waggler feeder or shallow fishing when slapping the rig or lifting and dropping is required.
They are needle friendly and do not crumble or split. Tuffits will cast on a feeder or straight lead without coming off the hair. The new 10mm Tuffits are perfect for the bigger carp in your local fishery. Ideal for hair rigging or straight hooking to use with any method of your choice.