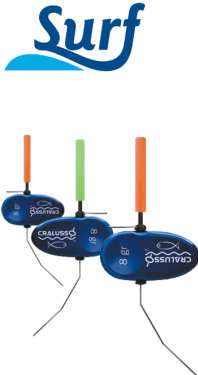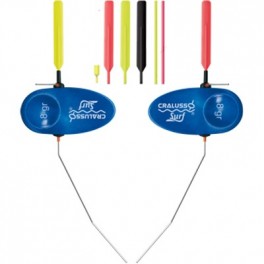 Cralusso Surf Floats are clever river floats that are fished on rod and line. Even in fast flows this float can be held stationary in the river and fished as static! It can also be sent in almost a straight line against heavy flows.
Product Description
The Surf float is supplied with two stems and top wires for use in either left or right flow, three paddle shaped bristles in different colours and the correct silicone tube for making the rigs.
Even in a light flow, rigs can be held in a position well beyond the rod top and trotting whilst holding back with a constant pressure such as when using a centre pin will see rigs travelling downstream in a true line without drag. In tests this was even achieved in a strong downstream wind. Being able to use rod and reel can be a major advantage on busy towpaths and when large bonus fish are a possibility. This float will not only be of interest to match anglers. It should also become a valuable asset to pleasure and specialist anglers, who will now find it possible to roll or place even big baits such as meat very accurately and into previously inaccessible areas.
A massive advantage especially for barbel and chub anglers who fish pressured faster rivers where fish are too used to seeing feeder and leger tactics over and over again!
The polyurethane material chosen for manufacture of the bodies of all Cralusso floats will not take on water, so minor surface damage will not lead to adverse performance. Floats are supplied with comprehensive instructions