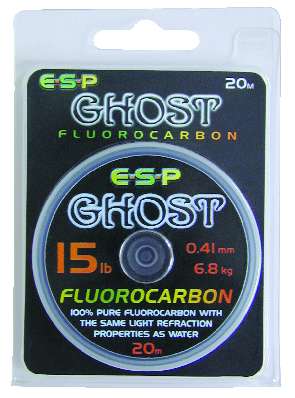 A stiff hooklength that absorbs light and doesn't reflect it like normal line. Super strong and robust, virtually invisible in water. A popular material for chod rigs and combi rigs.
Product Description
Pure fluorocarbon, not just a fluorocarbon coating.
With the same light refractive index as water, ESP Ghost is virtually invisible when submerged.
Specific Gravity (SG) of 1.78 ensures rigs sink quickly and lie tight to the bottom.
An excellent hook link material particularly for wary carp in clear water.
Available in:
10lb, 4.5kg
12lb, 5.5kg
15lb, 6.9kg
18lb, 8.2kg