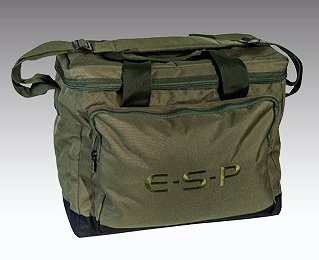 Two sizes available, either small (16 litres) or large (32 litres). Both have excellent insulation properties and designed with a reinforced base.
Product Description
The ESP Cool Bag is available in two sizes.
The smaller of these is 35cm x 23cm x 20cm and it can hold up to 16 litres of bait, food, and liquid. This makes it the ideal choice for the mobile day session angler and has been purpose designed for the angler who likes to travel light. It can comfortably hold all the food, drink, and bait that you need to sustain you and your quarry over a short day session.
The larger of the two ESP Cool Bags is 42cm x 32cm x 24cm. This equates to 32 litres, so it can hold double the quantity of bait, food, and drink as the smaller version. The large ESP Cool Bag is perfect for longer session, when you're going to be spending a couple of nights the bank.