KORDA - Thinking Tackle DVD set Season 5
KORDA - Thinking Tackle DVD set Season 5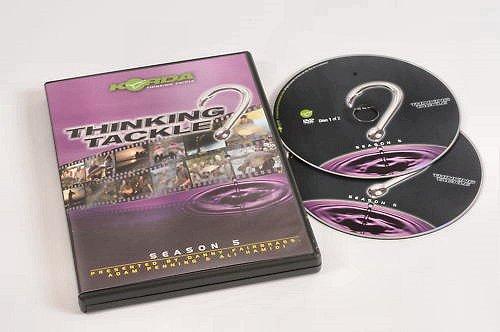 This series of Thinking Tacke, presented by Danny Fairbrass covers a range of tactics and advice on two DVD's.
Product Description
This latest series is presented by Danny Fairbrass, Ali Hamidi and Adam Penning and covers a range of exciting shows. Let's take a look at what you can expect from the double DVD…

EPISODES ONE AND TWO
The first two shows include an explosive French trip where renowned big-carp anglers Darrell Peck, Danny Fairbrass and friends pit their wits against some of the huge carp that inhabit the awe-inspiring Gigantica. Colossal giants such as Brutus, Single's Mate and many more hit the spreader as the chaps enjoy a remarkable session.
EPISODE THREE
We then go carping on the towpaths of the Grand Union Canal. Ali Hamidi and James Armstrong show just how much fun it is to target carp that are virtually uncaught. They take you through an epic journey as they travel to each pound in search of hard-fighting canal carp.
EPSIODE FOUR
Episode four sees us tiptoeing along the banks of Little Horseshoe Lake in the Cotswolds. We're with stalking enthusiasts Adam Penning and Simon Scott as they look to outwit some cagey carp within inches of the bank.
EPISODE FIVE
Master tacticians Adam Penning and Damian Clarke head to Chilham Mill in Kent to test their tactics against the tricky, resident carp. What follows is one of the finest hauls of carp ever filmed! During this unmissable episode the duo show us the secrets that accounted for carp to over 40lb in cold conditions.
EPISODE SIX
The awesome Gigantica again is the setting for this episode as English, Dutch and German anglers go head-to-head for the European Carp Cup. The German team is out to avenge a last-place finish in 2009 as England defends its title. Which side will get their tactics right? Tune in to find out…
EPISODE SEVEN
The European Carp Cup reaches its climax. With the tension mounting and huge carp on the feed, which team will come out on top? Will England be knocked off its perch; can Germany avoid a second wooden spoon? Find out in Episode Seven.
EPISODE EIGHT
Ali Hamidi and rising-star carper Jake Wildbore take two lucky Total Carp magazine readers to a frosty Loggie's Lake to show them how to improve their angling skills. Don't miss this final episode in the run because we're sure that you'll learn a lot too!